LUNA NERA DESCRIPTION:
 
Luna Nera is a graphite (unidirectional carbon) shaft developed by Longoni for pool and carom billiard disciplines.

Thanks to years of experience in composite materials, the Longoni team developed a modern concept shaft with extremely low deflection and high power.

Smooth and precise this shaft is available in different profiles to match different players' requirements.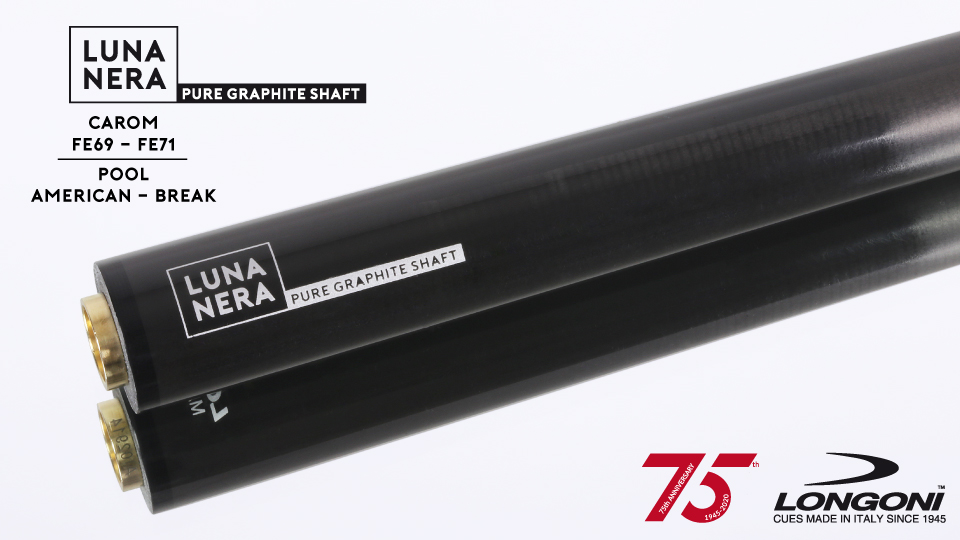 75 YEARS OF EVOLUTION 
in billiard world
75 years of evolution are expressed in a revolutionary tool, perfected in every single detail:

> extreme low deflection and high shooting accuracy

> layered graphite with variable orientation for maximum strength, push and controlled elasticity

> calibrated balancing

> new polyurethane filling, maximum volumetric and weight uniformity. Soundproofing and better vibration absorption

> mechanical components made with a very high precision CNC machine
The Longoni story is ready for new chapter of victories.
1945: Longoni company is established


THE FIFTIES: The laminated house cue is born: the iconic Arlecchino
THE SIXTIES: Stratos, Longoni shaft with laminated 12 slices technology
THE SEVENTIES: Longoni introduces butt and shaft in anticorodal aluminium
80-85: fiberglass, unidirectional graphite and carbon shafts
1986-1990: introduction of Kevlar, innovative for resistance and elasticity
1990: Fibercomp and Woodcomp shafts with melamine paper establish themselves on the market
1994: C-94 carbon, G-94 graphite and K-94 kewlar are born
1995: test of Fibercomp, Kevlar and Woodcomp in pool shafts
The 2000's: hybrid shafts: combined layers for optimized performances
2005: Aurum and Lithium: two new colors of fibers
2006: jump cue "Malleus" in composite fiber Lithium and unidirectional graphite
2010: the introduction of the new Vp2 joint for an improvement in the game mechanics
2015: Longoni designs and invests in a new study and innovation plan on composite materials with the Pro Longoni team
2020: after 5 years of research and practical tests, Longoni is ready to launch Luna Nera on the market
---
FOR MORE INFO:
---
Important notice:
Due to the special materials and technologies used, Luna Nera shafts cannot be modified in any details including diameter:  such cases will void warranty.
For a correct maintenance, not to compromise carbon fiber, clean your shaft using only
NUVOLA
dedicated product.
Never use polishing products or abrasive materials on the fiber: dust release of carbon fiber may be harmful to your health.
---