LONGONI CUES CERTIFICATE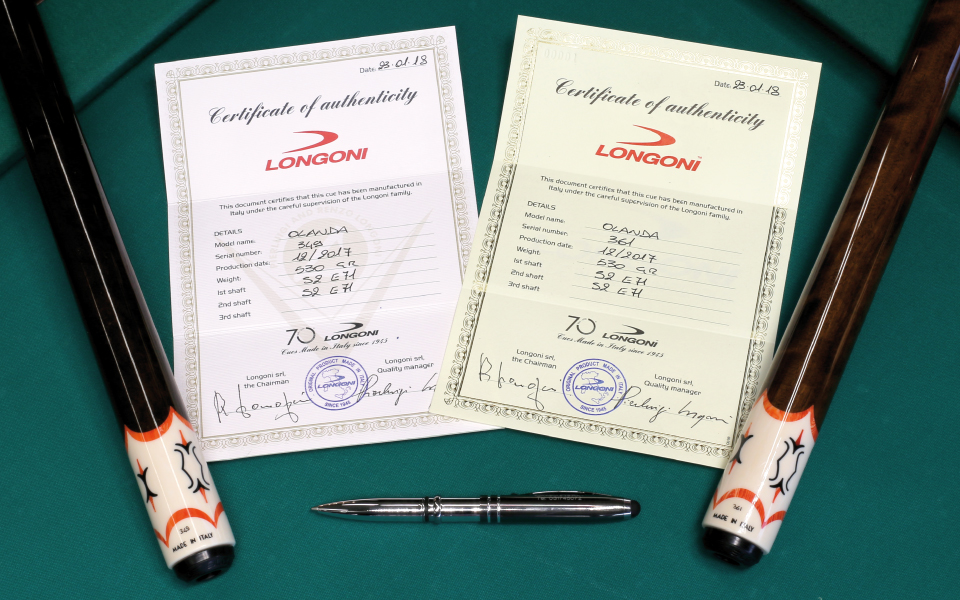 Longoni cues, being extremely required, are always in the top ten list of the counterfeited billiard products: you can easily find fakes in Asia or Central and South America. Of course these copies might be similar at first sight but there is no comparison with details and playability . To prevent these behaviors we worked on many aspects ( i.e. the registration of the trade marks in several countries) and we deliver top range products (Signature and above) with an official certificate personally signed by Renzo and Pierluigi Longoni.
At the beginning of 2018 , we decided to launch a brand new certificate much more complex and refined: printed on real watermarked paper, gold lines hot pressed on borders, each piece serially numbered and much more.
Every Longoni dealer is obliged to provide the above mentioned certificate for the models that are indicated. In case they are not able to provide it , we warmly suggest not to buy the product. Is possible tor require a copy of the certificate but it has a cost of 50€ that include registered shipping courier. To have it, is important to send a message on FB with your personal address , complete details where you purchased the cue, photos of the cues showing details, logos an serial number . Without this information is impossible to provide such a certificate. Being a copy of the original certificate, it will be incomplete on some fields and it will report the "duplicate" logo. Such procedures are essentials because of the many copies that are sold constantly worldwide , especially in some Asian or central America countries. For these reasons we repeat to buy only from official channels , requiring always the certificate ( if the model requires it ).
Le stecche Longoni, essendo estremamente richieste, sono sempre nella top ten dei prodotti da biliardo contraffatti: si possono trovare facilmente falsi in Asia o nel Centro e Sud America. Ovviamente queste copie potrebbero essere simili a prima vista ma non confrontandole con dettagli e giocabilità. Per prevenire questi comportamenti abbiamo lavorato su molti aspetti (ad esempio la registrazione dei marchi in diversi paesi) fornendo prodotti di alta gamma (Firma e sopra) con un certificato ufficiale firmato personalmente da Renzo e Pierluigi Longoni.
All'inizio del 2018 abbiamo deciso di lanciare un nuovo certificato molto più complesso e raffinato: stampato su vera carta filigranata, con linee dorate stampate a caldo sui bordi, ogni pezzo numerato in serie e molto altro.


Ogni distributore Longoni è obbligato a fornire il certificato sopra menzionato per i modelli indicati. In caso non sia in grado di fornirlo, suggeriamo caldamente di non comprare il prodotto. E' possibile richiedere una copia del certificato al costo di 50€ incluso trasporto con corriere tracciato. Per averlo, è importante inviare un messaggio su FB con il proprio indirizzo personale, dettagli completi di dove sia stata acquistata la stecca, foto della stecca con dettagli in evidenza come logo e numero di serie. Senza queste informazioni è impossibile fornire il suddetto certificato. Essendo una copia del certificato originale, questo non sarà completo in tutti i suoi campi e riporterà la dicitura "duplicato". Queste procedure sono essenziali a causa delle molteplici copie vendute costantemente in tutto il mondo, soprattutto in alcuni paesi Asiatici o dell'America Centrale. Per queste ragioni, ripetiamo di comprare solamente dai canali ufficiali, richiedendo sempre il certificato (se il modello lo prevede).
SILVER LINE / LIMITED EDITION / SIGNATURE / LUXURY LINE / EXCLUSIVE LINE - CUES CERTIFICATE (CURRENT VERSION)
SILVER LINE / LIMITED EDITION / SIGNATURE / LUXURY LINE / EXCLUSIVE LINE - CUES CERTIFICATE (2018 - 2021)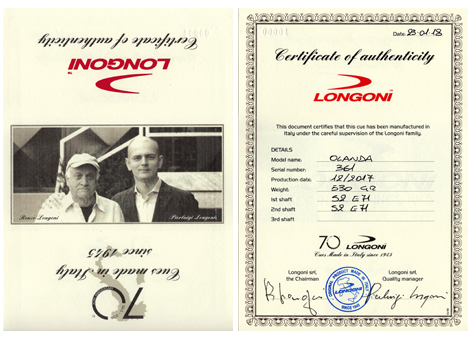 CUES CERTIFICATE (2ND VERSION - 2012/17)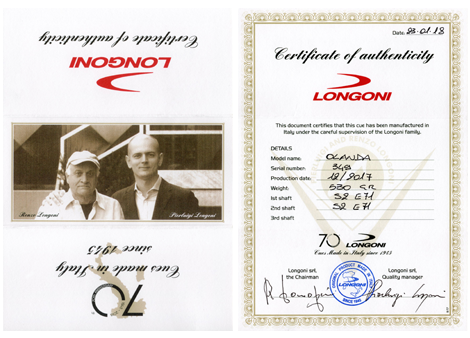 CUES CERTIFICATE (1ST VERSION)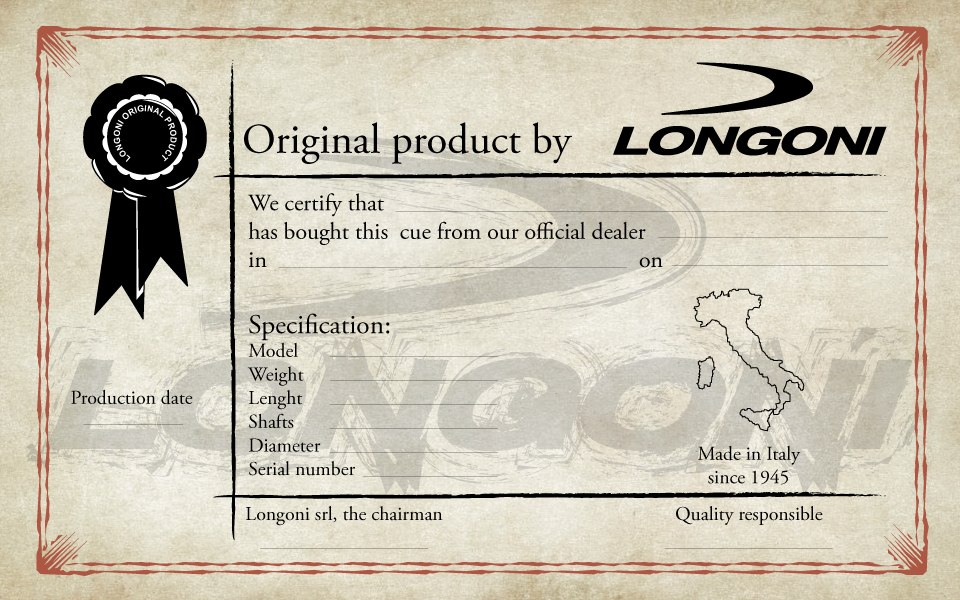 CUSTOM PRO SERIE / 3STARS PRO / CLASSICA LINE - CUES CERTIFICATE (CURRENT VERSION - 2015)


CUES CERTIFICATE (1ST VERSION - 2012 / 14)