CUE MODEL:

SCROLL HI-RES IMAGE

PRODUCT DESCRIPTION:
We are happy to announce a new limited edition for one of top member of the Longoni team, the Dutch World Champion Dick Jaspers!
This Signature model, available in only 250 pcs, is a restyle of the Olanda cue.
Made with Solid-core technology with Nox Siver and hornbeam, Juma magma and snake rings and inlays, Vp2 titanium joint, Olanda Magma edition is a masterpiece of curved rings design.
This technology has been used by Longoni since several years to create elaborated and innovative styles. Don't loose the chance to get it for first !

LIMITED EDITION:


limited edition 250 pcs completed
WOODS: 
nox silver, hornbeam (for the solid core)
REFERENCE ITEMS:
item 24494 with nr 2 S20
item 24495 with nr 2 S30
COMPLEMENTARY:

SHAFTS:
two
PLAYER:

Dick Jaspers, 5 times World Championship, 5 times European Championship
SERIAL NR:
Handsigned number
PRODUCTION YEAR:
2018
CERTIFICATE: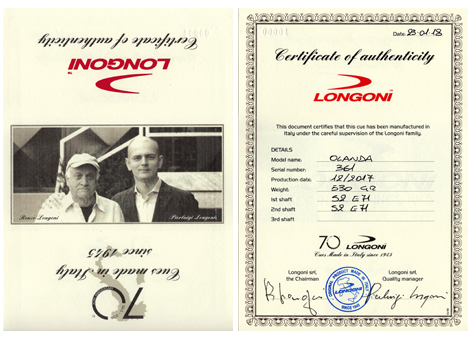 EMBEDDED TECHNOLOGY:
IMPORTANT NOTICE:
The company reserves the right to apply modifications or changes to the product without any obligation of previous notice.