CUE MODEL:
ARMONIA OCTAGONAL

by FREDERIC CAUDRON
Exclusive availability for the Korean market (contact Kimchi billiard)


SCROLL HI-RES IMAGE


DISCIPLINE:


Carom
STATUS:
discontinued
PRODUCT DESCRIPTION:
The first limited edition Frederic Caudron's Armonia cues with the famous Longoni octagonal handgrip. This special model developed with the support of the great Belgian champion it's a Kimchi exclusive.
This cue is totally based on high contrasts: black and white, haliotis splendens shell and real 925 silver. Light and power, darkness and elegance. Some minors details will change in production. Photos are just indicative.

LIMITED EDITION:


No
WOODS: 
Nox Silver, hornbeam (for the Xylo core).
REFERENCE ITEMS:
BJ JOINT
item 24445 with nr 2 S20
VP2 JOINT
iitem 24444 with nr 2 S20
COMPLEMENTARY:

BUTT MIN WEIGHT:


360gr
SHAFTS:
two
PRO PLAYER:

Frédéric Caudron
SERIAL NR:
Handsigned number
PRODUCTION YEAR:
-
CERTIFICATE: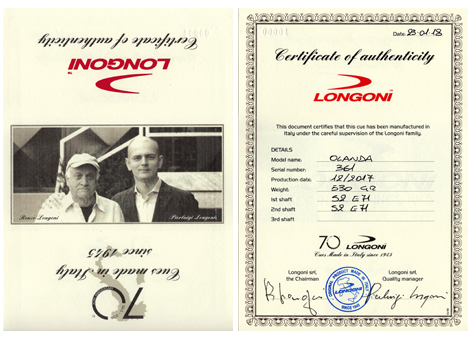 EMBEDDED TECHNOLOGY:
IMPORTANT NOTICE:
The company reserves the right to apply modifications or changes to the product without any obligation of previous notice.