CUE MODEL:
OLANDA

SCROLL HI-RES IMAGE


DISCIPLINE:


Carom
STATUS:
discontinued
PRODUCT DESCRIPTION:
Olanda is the 2015 new model specially developed for the Dutch several times world champion Dick Jaspers.
The cue is made with solidcore technology and curved rings with inlays. All the rings are created using the famous and exclusive Elforyn german material.
Vp2 quick release joint is made out of Titanium grade 5 metal for a correct balance and solid hit.
The body of the cue is made Imbuia Brazialian wood and hornbeam solid core.
Available with the original Longoni laminated shafts: S2, S3, S20.
This model integrate the 3lobite technology and comes with a 3lobite extension.

Some minors details will change in production. Photos are just indicative.
LIMITED EDITION:


No
WOODS: 
imbuja, hornbeam (for the solid core).
REFERENCE ITEMS:


it

em 27793 with nr 2 S20
item 27794 with nr 2 S2
COMPLEMENTARY:

BUTT MIN WEIGHT:


380/390gr
SHAFTS:
two
PRO PLAYER:

Dick Jaspers
SERIAL NR:
Handsigned number
PRODUCTION YEAR:
-
CERTIFICATE: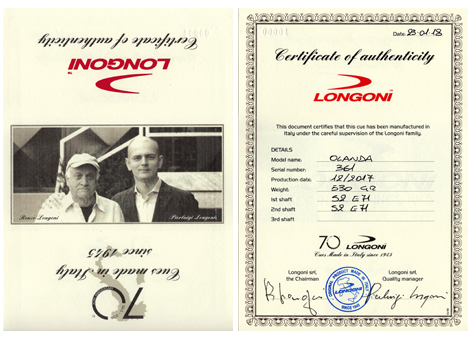 EMBEDDED TECHNOLOGY:
IMPORTANT NOTICE:
The company reserves the right to apply modifications or changes to the product without any obligation of previous notice.