CUE MODEL:
INFINITY

by JEREMY BURY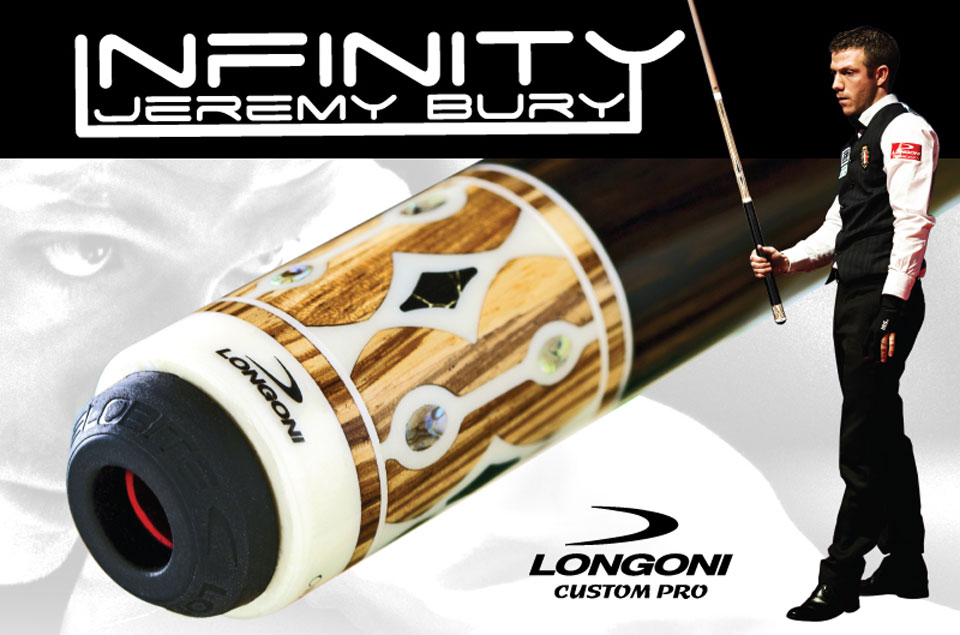 SCROLL HI-RES IMAGE


DISCIPLINE:


Carom
STATUS:
Butts availability: only with minimum weight of 420 gr
PRODUCT DESCRIPTION:
A limited edition cue (200 pcs) for the 5 times French champion Jérémy Bury. A classic design made of Zebrano and Macassar ebony wood on a hornbeam base.
Thanks to the new Xylo-wood core has no vibration and top playbility. All the inlays are made with white juma, real shell and black/gold stone. Vp2 titanium joint and trilobite installed complete this masterpiece.
LIMITED EDITION:


No
WOODS: 
zebrano, macassar ebony (to reach particular weight or balance, at our own discretion and without obligation of prior notice, we could replace macassar ebony with Nox) , hornbeam (for the solid core).
REFERENCE ITEMS:
item 24404 with nr 2 S2
item 24406 with nr 2 S20
BUTT MIN WEIGHT:


420 gr
SHAFTS:
two
PRO PLAYER:

Jeremy Bury
SERIAL NR:
Handsigned number
YEAR OF FIRST PRODUCTION

:
2015
EMBEDDED TECHNOLOGY:
IMPORTANT NOTICE:
The company reserves the right to apply modifications or changes to the product without any obligation of previous notice.