CUE MODEL:
TOSCANA STRIPS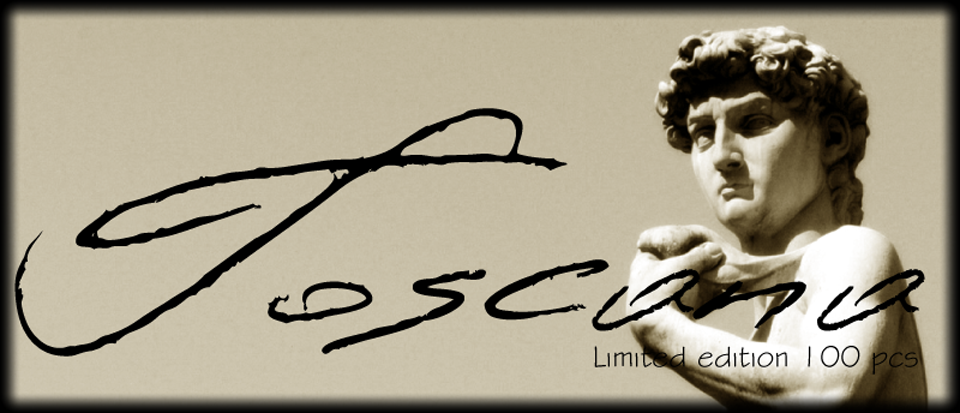 SCROLL HI-RES IMAGE


DISCIOLIINE:


Carom
STATUS

:
only irregular available
PRODUCT DESCRIPTION:
A Longoni tribute to Tuscany, a wonderful land surrounded by famous monuments and Italian art.
This product is inspired by Italian Renaissance themes and Mediterranean colours: just 100 pieces available.
With a European maple core, the "Toscana" cue shows its beauty with macassar ebony and olive wood.
Each piece is supplied with two Longoni S2 shafts, Vp2-T joint, one 3lobite extension, all delivered with a "Stella" hard case.
Elegance and playability together for your favourite game.

LIMITED EDITION:


100 pcs completed.
WOODS: 
macassar ebony (to reach particular weight or balance, at our own discretion and without obligation of prior notice, we could replace macassar ebony with Nox), olive wood, maple core.
REFERENCE ITEMS:
item 24375 with nr 2 S2 71 shaft for carom 3c 
BUTT MIN WEIGHT:


390 gr
SHAFTS:
two
PRO PLAYER:
No

SERIAL NR:
Handsigned number
YEAR OF FIRST PRODUCTION

:
2012
EMBEDDED TECHNOLOGY:
IMPORTANT NOTICE:
The company reserves the right to apply modifications or changes to the product without any obligation of previous notice.