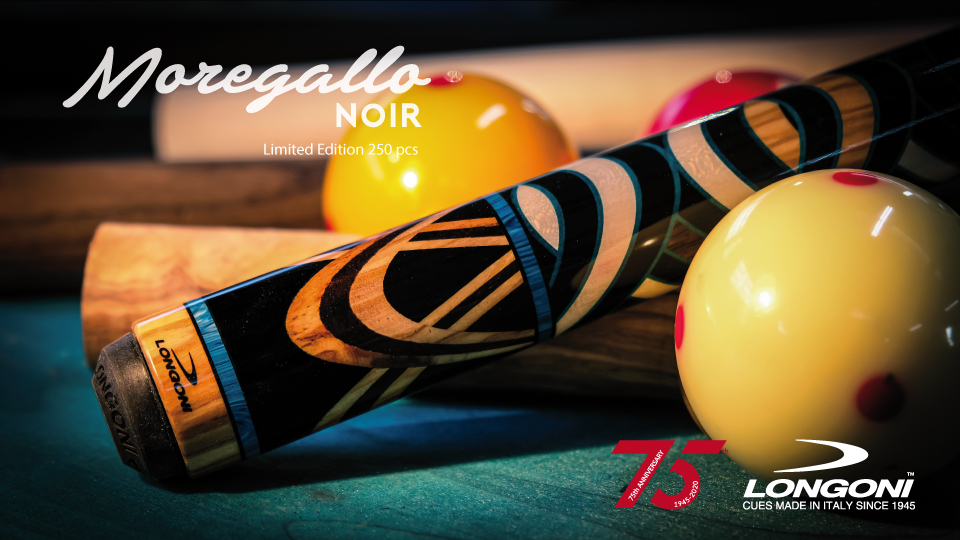 CUE MODEL:
MOREGALLO NOIR

Exclusive availability for the Korean market (contact Kimchi billiard)

SCROLL HI-RES IMAGE


DISCIPLINE:


Carom
STATUS:
in collection
PRODUCT DESCRIPTION:
Cue with an exclusive handgrip, produced with Ural, rosewood, olive wood layers and maple with a parallel vein, and blue wood veeners.
Every piece is carefully assembled by hand to recreate the exclusive aesthetic pattern of short cross and crossed flames.
The upper part and the ring are produced with the French technique with 4 upper and 4 lower rosewood and olive flames.
Assembly performed with the new hexacore by Longoni for a better playability and acoustic
LIMITED EDITION:


250 pcs
WOODS: 
Ural, olive wood, maple, rosewood
REFERENCE ITEMS:
item 24756 with nr 1 S20 GALILEO VP2
item 24757 with nr 1 S20 GALILEO WJ
BUTT MIN WEIGHT:


390 gr
SHAFTS:
two
PRO PLAYER:
No

SERIAL NR:
Handsigned number
YEAR OF FIRST PRODUCTION

:
2021
EMBEDDED TECHNOLOGY:
IMPORTANT NOTICE:
The company reserves the right to apply modifications or changes to the product without any obligation of previous notice.