CUE MODEL:
SCROLL HI-RES IMAGE


DISCIPLINE:


pyramid
STATUS:
in collection
PRODUCT DESCRIPTION:
Magnum is the evolution of the successful Kalashnikov cue with the elegant design of the Floreale limited model. Ebony macassar (to reach particular weight or balance, at our own discretion and without obligation of prior notice, we could replace macassar ebony with nox), hornbeam, olivewood and elforyn design a masterpiece of power and elegance.
This model, like the Floreale, is also an hi-tech product featuring the new vibraless balancing system and 3lobite extension.
You can easily adjust balance point and weight. Each shaft is a laminated one, made with 10 selected european hornbeam pieces.
The handgrip is made with the most selected and exclusive Florence Italian leather.
LIMITED EDITION:


No
WOODS:
macassar ebony, nox, olivewood
REFERENCE ITEMS:
art 29161
COMPLEMENTARY:
Longoni bag
CUE MIN WEIGHT:


600gr
SHAFTS:
one S5 laminated shaft
PRO PLAYER:
No

SERIAL NR:
Handsigned number
YEAR OF FIRST PRODUCTION

:
-
CERTIFICATE: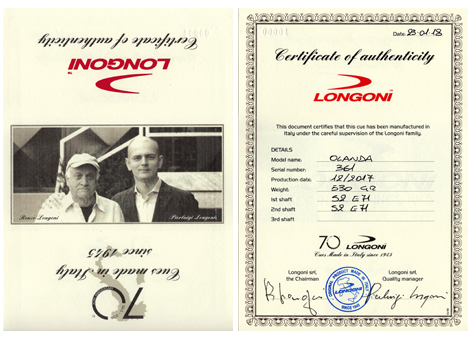 EMBEDDED TECHNOLOGY:
IMPORTANT NOTICE:
The company reserves the right to apply modifications or changes to the product without any obligation of previous notice.