CUE MODEL:


SCROLL HI-RES IMAGE


DISCIPLINE:


pyramid
STATUS:
in collection
PRODUCT DESCRIPTION:
This is the typical Italian traditional cue. Made out of hundreds pieces of inlayed woods, represents since more than 60 years the highest Italian design in matter of cues.
Adjustable weight and balance.
LIMITED EDITION:


No
WOODS:
rosewood, hornbeam, purple heart, zebrano
REFERENCE ITEMS:
art 29159
COMPLEMENTARY:
Longoni bag
CUE MIN WEIGHT:


680gr
SHAFTS:
one hornbeam shaft
PRO PLAYER:
No

SERIAL NR:
Handsigned number
YEAR OF FIRST PRODUCTION

:
2007
CERTIFICATE: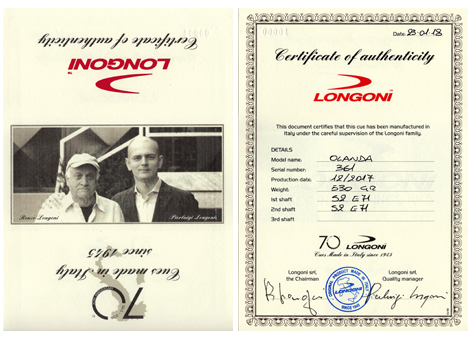 EMBEDDED TECHNOLOGY:
IMPORTANT NOTICE:
The company reserves the right to apply modifications or changes to the product without any obligation of previous notice.