CUE MODEL:
SCROLL HI-RES IMAGE


DISCIPLINE:


pyramid
STATUS:
in collection
PRODUCT DESCRIPTION:
For sure the most famous Renzo Longoni design cue ever. Every top player have heard about this masterpiece.
Ambra has been the first Longoni cue with hoctagonal handgrip and it's in the range since more than 20 years. Available for russian pyramid in round version only.
Very popular in the States, this cue has been updated in a new version with more selected woods and technological materials.
LIMITED EDITION:


No
WOODS:
zebrano, pau marfin, vavona, Black ebony.
REFERENCE ITEMS:
art 29138
COMPLEMENTARY:
Longoni bag
CUE MIN WEIGHT:


680gr
SHAFTS:
one S5 laminated shaft with black ring
PRO PLAYER:
No

SERIAL NR:
No
YEAR OF FIRST PRODUCTION

:
2000
CERTIFICATE: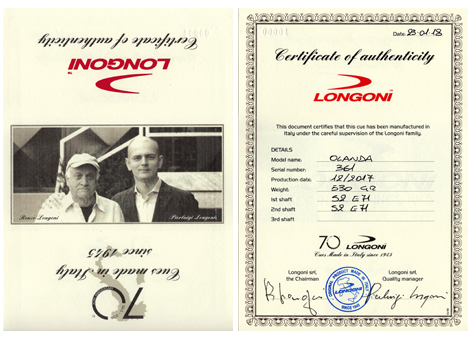 EMBEDDED TECHNOLOGY:
IMPORTANT NOTICE:
The company reserves the right to apply modifications or changes to the product without any obligation of previous notice.