CUE MODEL:
SCROLL HI-RES IMAGE


DISCIPLINE:


pyramid
STATUS:
in collection
PRODUCT DESCRIPTION:
The "Black thing", made out of the best ebony from Madagascar this masterpiece is the right product for players interested in a technical product with precious design.
Grip: real leather.
Adjustable weigth and balance
LIMITED EDITION:


No
WOODS:
black ebony, hornbeam,
REFERENCE ITEMS:
art 29157
COMPLEMENTARY:
Longoni shuttle case
CUE MIN WEIGHT:


680gr
SHAFTS:
one S5 laminated shaft
PRO PLAYER:
No

SERIAL NR:
No
YEAR OF FIRST PRODUCTION

:
2004
CERTIFICATE: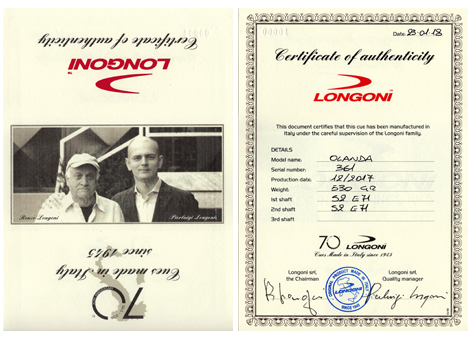 EMBEDDED TECHNOLOGY:
IMPORTANT NOTICE:
The company reserves the right to apply modifications or changes to the product without any obligation of previous notice.