CUE MODEL:
NIRVANA


SCROLL HI-RES IMAGE


DISCIPLINE:


Carom
STATUS:
discontinued
PRODUCT DESCRIPTION:
Beauty is black. A solid piece of Nox™ wood enriched with azurite inlays , snakewood, juma and real silver.
Inlays create an intricate pattern. The night and the day run after each other in one of the most attracting Longoni design. The upper and lower collars are enriched with beatiful and bold inlays.
LIMITED EDITION:


100 pcs
WOODS:
Nox™ wood, snakewood, balkan maple (core)
REFERENCE ITEMS:
item 24449 with nr 2 S20 shaft
item 24450 with nr 2 S2 shaft
COMPLEMENTARY:

BUTT MIN WEIGHT:


400/410 gr
SHAFTS:
two
PRO PLAYER:
No

SERIAL NR:
Handsigned number
PRODUCTION YEAR:
-
CERTIFICATE: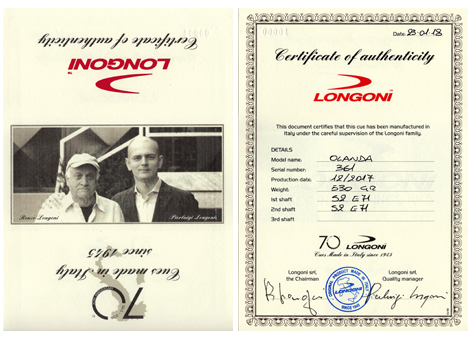 EMBEDDED TECHNOLOGY:
IMPORTANT NOTICE:
The company reserves the right to apply modifications or changes to the product without any obligation of previous notice.