CUE MODEL:

SCROLL HI-RES IMAGE


DISCIPLINE:


Carom
in collection
PRODUCT DESCRIPTION:
Artemide : when art needs hunting.
Very elegant in her black and brown dress, Artemide is a cue with an attitude for the refined collectors. Available in a limited serie , this masterpiece , will attract the attention of your opponents.
Bold turquoise inlays, marked by a white border, give a unique character to this product.

LIMITED EDITION:


100 pcs
WOODS:
madrona briar, african ebony, balkan maple.
REFERENCE ITEMS:
item 24351 with nr 2 S2 E69 shaft for carom 3c
item 24352 with nr 2 S2 E71 shaft for carom 3c
COMPLEMENTARY:


BUTT MIN WEIGHT:


400 gr
SHAFTS:
two
PRO PLAYER:
No

SERIAL NR:
Handsigned number
PRODUCTION YEAR:
-
CERTIFICATE: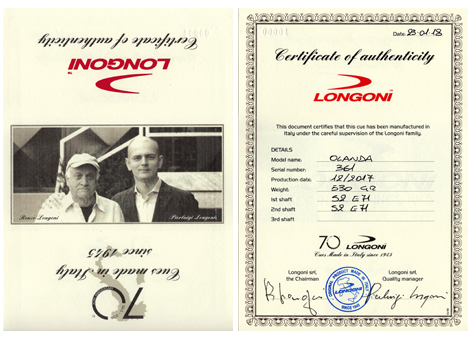 EMBEDDED TECHNOLOGY:
IMPORTANT NOTICE:
The company reserves the right to apply modifications or changes to the product without any obligation of previous notice.